2019 Toyota RAV4 near Menomonee Falls, WI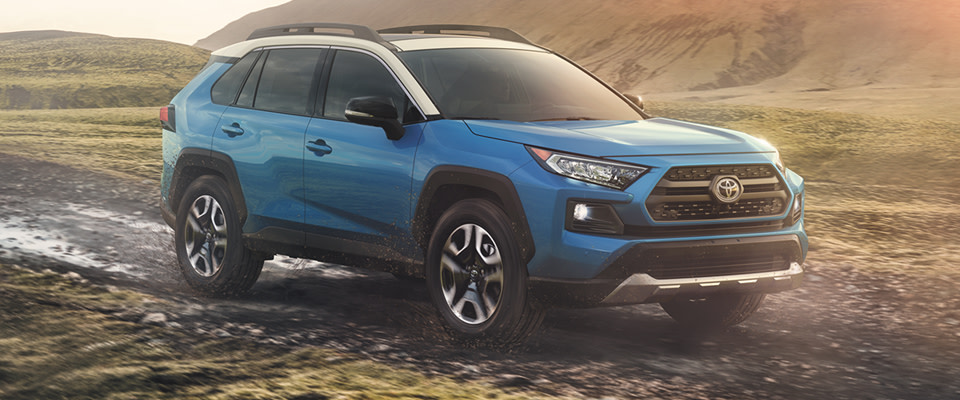 View 2019 Toyota RAV4 Inventory
Enjoy More Adventures In and Out of Menomonee Falls With the 2019 Toyota RAV4
Situated in Waukesha County and part of the Greater Milwaukee Area, Menomonee Falls has grown to become the largest village in all of Wisconsin. This is a place of tree-lined neighborhoods and a downtown sector boasting both locally owned and operated businesses and nationally-recognized brands and franchises. Yet as big as Menomonee Falls grows, it still enjoys plenty of green spaces -- such as the 150-acre, 18-hole golf course at the southeastern corner of the village and the multi-purposeful Lime Kiln Park located closer to the heart of the village. Of course to get to any of these locations and to enjoy adventures outside of the village of Menomonee Falls, you'll want a special type of vehicle. One vehicle we think such Menomonee Falls drivers will especially appreciate is the 2019 Toyota RAV4.
The 2019 Toyota RAV4 is a crossover SUV that offers the utility of a smaller SUV with the passenger options of a larger one. It also happens to be one of the most fuel-efficient models of its class. If you are on the hunt for a capable adventure vehicle that will take you further for less money on the gallon, then this model should definitely be on your must-see list. Just check out the following exciting facets of this multi-purposeful vehicle:
3 Aspects of the 2019 Toyota RAV4 Menomonee Falls Adventure Lovers Are Sure to Appreciate
The only available hybrid in its class. If you hate paying at the pump, passionate about the environment, and want a spacious and capable utility vehicle, then there is no better vehicle on the market this year then the 2019 Toyota RAV4 Hybrid. This hybrid model comes outfitted with a 176 horsepower 2.5-liter four-cylinder engine that's paired with an electric motor which together generates a total of 219 horsepower. This version earns a class-leading 41 miles per gallon in the city and 37 mpg on the highway. Of course, even the gasoline-only trim earns some great fuel numbers -- 26 mpg city and 35 mpg highway.
Fantastic handling. Hybrid and fuel-efficient vehicles have a somewhat poor reputation when it comes to handling. Yet, here again, the 2019 Toyota RAV4 outclasses all expectations. Both versions of this model offer incredible performance and handling characteristics. The engineers for this model designed it so as to be aerodynamic and yet also very stable and easy to drive. Behind the steering wheel, you will feel confident and enjoy accurate and responsive steering whether you are driving on perfect road conditions or things are slick and rough. This is even truer if you opt for the available all-wheel-drive model.
Tons of passenger and cargo space. The 2019 Toyota RAV4 is a fully outfitted crossover SUV, which is to say there is plenty of room for both your belongings and your friends and family. Both rows of seats offer plenty of head and legroom for even the tallest of your Menomonee Falls associates. Additionally, where similar vehicles offer rear cargo space in the teens, this model offers a jaw-dropping 37.5 cubic feet of cargo space with the seats up. That is nearly double some of its competitors! But if that's still not enough, you can fold down the rear seats and double your possibilities.
Learn More About the 2019 Toyota RAV4 By Visiting Our Team at Russ Darrow Toyota of West Bend
If you are looking for a utility-oriented vehicle that can comfortably transport you and your friends and do so efficiently, then you'd be hardpressed to find a better vehicle then this! Come visit us at Russ Darrow Toyota of West Bend and see why for yourself!
Contact us about the 2019 Toyota RAV4