2017 Toyota Land Cruiser near Jackson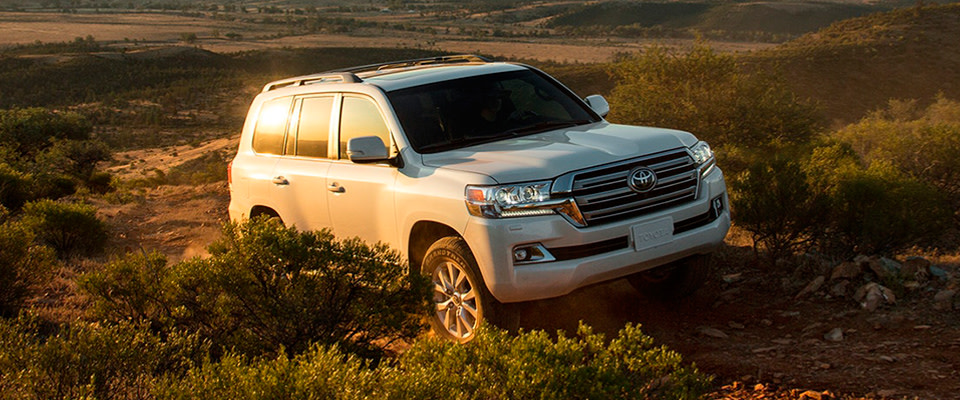 View 2017 Toyota Land Cruiser Inventory
2017 Toyota Land Cruiser near Jackson
The Toyota Land Cruiser has a 60-year history of exploring uncharted territories around the world, and there remains only one choice of vehicle if you plan on taking the path not traveled. The 2017 Toyota Land Cruisers for sale near Jackson are equipped with the latest technology to take you wherever you may want to go, as long as it's on land. Here's a look at why the Land Cruiser continues to be the premier off-roading vehicle.
Advanced Engineering for Power and Traction
The 2017 Toyota Land Cruiser has everything you'd expect in a powerful, full-size SUV, including a V8 engine, 8-speed automatic transmission, robust suspension system and limited-slip differential.
It's not having these features per se that make the Land Cruiser so well-suited for off-roading, for many large SUVs have similar engines and systems. It's the features' advanced engineering, though, that enable the Land Cruiser to go where other big SUVs aren't able to. All of the systems are designed to truly provide the maximum amount of power and traction possible:
The V8 engine has acoustic control induction and dual independent variable valve timing with intelligence to maximize power throughout the full rpm range
The transmission automatically adjusts according to throttle input, and it comes with a sequential shift mode that lets the driver manually select gears
The suspension system is equipped with Toyota's Kinetic Dynamic Suspension System, which automatically disconnects the sway bar and adjusts the suspension system for optimal wheel articulation
The Torsen limited-slip differential automatically sends power to the axle or wheel that has the most traction, is able to lock wheels and can let the driver manually select a 50/50 front/rear power distribution
In short, the engine and systems under the hood of the Land Cruiser aren't for show. They're for using -- and using in extremely demanding situations at that.
Off-Roading Features Come Standard
When purchasing a 2017 Land Cruiser, there's no need to pay extra to get an off-roading package. For, all of the new Toyota Land Cruisers for sale near Jackson come with a plethora of off-roading features, such as:
a Multi-Terrain Monitor, which displays the front, rear and side cameras' views on the 9-inch color touchscreen display with the press of a button
Multi-Terrain Select, which gives the drivers the option to select between five common off-road driving surfaces (rock, rock and dirt, mogul, loose rock, and mud and sand)
Crawl Control (CRAWL), which includes an available tighter turning radius
reinforced skid plates, which give crucial components added protection from potential ground hazards
Little Amenities for Comfort Away from Civilization
Not to be overlooked, the 2017 Land Cruiser includes a host of little amenities that add convenience and comfort even when the SUV's far from any sign of civilization. Just a few of these are:
a cooled chamber in the center console for drinks, so you don't need ice
fold-flat third-row seats, so you can lay down an air mattress
built-in navigation, so you won't get lost
a power moonroof, so you can enjoy the night sky
To see all that the Land Cruiser has to offer, stop by and see us at Russ Darrow Toyota of West Bend. We have a variety of new Land Cruisers for sale near Jackson that are ready to be test-driven. Stop by Monday through Saturday, and experience firsthand what 60 years of off-road engineering brings.
Directions to Toyota Jackson
Contact us about the 2017 Toyota Land Cruiser