2016 Toyota Camry available for lease in Barton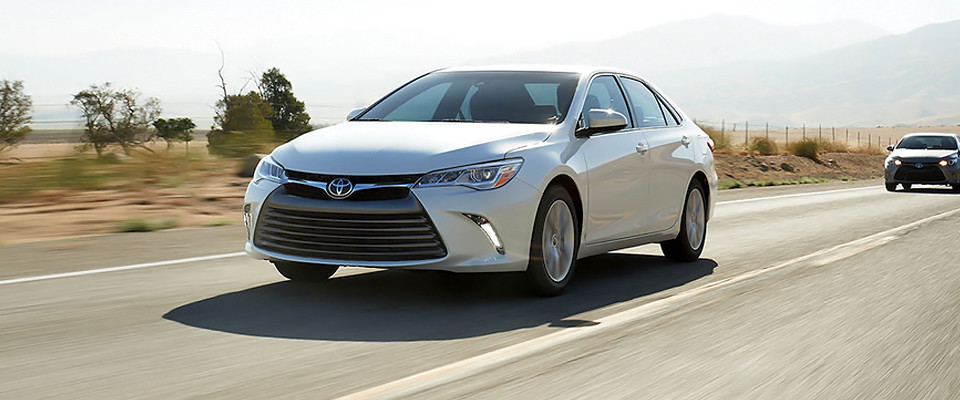 View 2016 Toyota Camry Inventory
2016 Toyota Camry available for lease in Barton
The 2016 Toyota Camry is available for lease in Barton, and if you're looking for a carefully-tuned, over-achieving and sporty vehicle, look no further. Russ Darrow Toyota has the 2016 Camry for lease, and we will not be outdone when it comes to service and helpfulness.
In terms of performance, the Camry throws down the gauntlet to its competition. Its optional 3.5 liter V6 engine generates 268 horsepower, shaking the notion that the Camry is a plain old economy car. With that said, it doesn't lag behind in fuel economy, either. Just the opposite in fact, as it logs an EPA-estimated 31 miles-per-gallon on the highway. The smaller 4-cylinder motor squeezes out a few more, achieving 35 MPG on the highway.
When we said carefully-tuned, we meant it. The Camry features a recalibrated suspension to control body roll and steering characteristics. Retuned springs keep body roll to a minimum, while still preserving daily comfort. Specially-designed sway bars help the car to stay consistent and precise through turns. The Camry's custom vortex generators help minimize wind noise so you can enjoy the engine's roar without invasive wind noise. What was that about "plain old economy car?"
As much as it might appeal to the enthusiasts, sportiness is not the only trait the Camry brings to the table. The Camry is filled to the brim with refinement, with comfort, with amenities that are sure to make you wonder why you considered any other car. The Camry for lease in Barton will not disappoint.
The Camry's interior guarantees that you and your passengers will travel in ultimate comfort. The available 8-way power-adjustable heated seats allow you to find your ideal driving position and fend off the harsh advances of winter at the same time. There is no reason your seat should feel like it has a layer of ice on it - Toyota realizes this, and that's why the Camry is sure to fill warm you and your heart.
While you're enjoying heated luxury, you should also take advantage of the available stereo options. A Camry equipped with a JBL-designed stereo is a happy Camry indeed. When so equipped, the speakers will have no trouble reproducing your favorite tunes with power and clarity. If your cell phone or iPod needs a charge, or if you get lost on your latest adventure, the Camry has you covered. An available wireless charger takes care of your desire for power, and the Integrated Navigation means you can always find your way.
Toyota has long been known for safety and reliability, and the 2016 Camry is no different. Their dedication led to available safeguards like blind spot monitors, back up cameras, a lane departure alert system, and a tire-pressure monitoring system that lets you know when a tire is down on air. In addition to this, the Camry comes with ten standard airbags and a Star Safety System, which includes the well-known vehicle stability control and anti-lock brake system, in addition to Toyota's Electronic Brake-force Distribution (EBD) and Smart Stop Technology (SST).
The 2016 Toyota Camry for lease in Barton strives to provide an exhilarating experience without sacrificing luxury. We at Russ Darrow Toyota happen to think the Camry does this and a lot more. Come talk to us today - we promise the best in sales, service, and personnel.
Directions to Toyota Barton
Contact us about the 2016 Toyota Camry