2015 Toyota Prius for sale near Barton, WI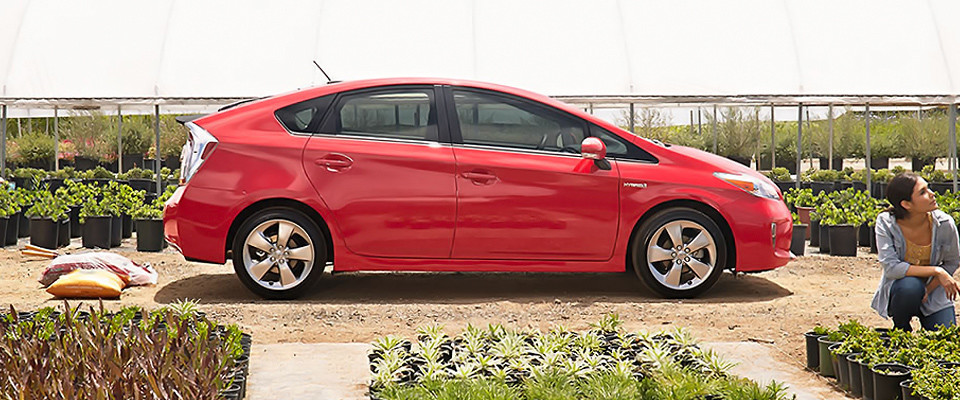 View 2015 Toyota Prius Inventory
2015 Toyota Prius for sale near Barton, WI
The top name in Hybrid cars is here for another round. The 2015 Toyota Prius for sale near Barton, WI, is a hybrid force to be reckoned with. It is still sporting its unique design, aerodynamic shape, and hatchback trunk. It is still giving you impressive MPG and staying as efficient as ever. It still gives you the space you need for all of your passengers and cargo, while also providing the means to keep them safe on the road. If you've ever thought about owning a hybrid, then consider the one that put Hybrids on the map, the Toyota Prius.
Toyota is known for great fuel efficiency, great safety features, and outstanding reliability. The 2015 Prius is a stand out car for all three of those categories. 95-percent of all Prius models purchased in the last 10 years are still on the roads today, they are still using the Hybrid Synergy Drive®, and they are still helping drives save on fuel. Between the already efficient hybrid engine and the energy monitor, Prius owners are bound to save enormously on fuel cost.
The massive fuel saving efficiency comes from more than just the hybrid engine, efficiency is built into the iconic shape of the Prius. The rounded shape and flowing lines reduce resistance, which reduces the coefficient of drag (Cd). The Prius Cd is a low 0.25 making it an extremely aerodynamic car. When you add a 1.8L Aluminum 4-Cylinder DOHC 16-valve engine with Variable Valve Timing to the Hybrid Synergy Drive® system with the electric motor and put it into such an aerodynamic frame, you get a very impressive and hard to beat 51/48 MPG1 city/hwy.
The 2015 Toyota Prius for sale near Barton, WI, also comes with three drive modes to help you adjust the engine and power to your needs. EV mode allows you to run on just battery power for up to one mile in a pinch. Eco mode improves fuel economy by adjusting the throttle and interior electronic systems. However, if you need a bit more power behind the pedal, Power mode will adjust the throttle accordingly. Of course you can still monitor all of your fuel efficiency with the energy monitor, fuel consumption monitor, and ECO Savings Record, all visible on the Multi-Information Display on the driver's dash.
Of course the Prius isn't all about saving on fuel, it is also about being a versatile hybrid. This means that the 2015 Toyota Prius is built to accommodate both passengers as well as cargo. With seating for five, you can easily fit all of your favorite passengers. Front passengers get a comfortable 42.5-inches of legroom and rear passengers get 36-inches of legroom. With 60/40 split fold rear seats, you can easily configure the rear to passengers or cargo2. When you have a full passenger load, there is still up to 21.6 cubic-ft. of space in the rear. When you need more cargo room, you can fold the seats for up to 40 cubic-ft. of space.
If you are looking to purchase a new hybrid this year, then go with the original. The 2015 Toyota Prius for sale near Barton, WI, is ready for a test drive. Come in to Russ Darrow Toyota, your Wisconsin Toyota Dealer today for more information.
Directions to Toyota Barton
1. 2015 EPA-estimated city/highway mileage. Actual mileage will vary.
2. Cargo and load capacity limited by weight and distribution.
Contact us about the 2015 Toyota Prius